Pickmere Sirocco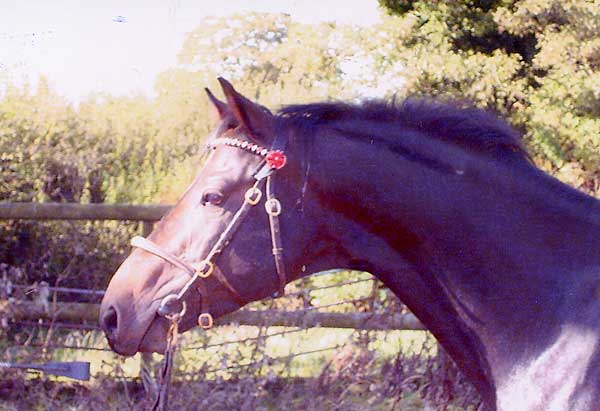 Dark Bay 148cm Foaled in 2001
Rotherwood Peter Pan
West Acre Concerto
Keston Royal Occasion
Twylands Crescendo
Katies Dream
Keston Royal Occasion
Rotherwood Destiny
Pickmere Pure Gold
Tromeros
Camden Town
Silky Starlet
Pickmere Golden Glory
Scorching Hill
Chantilly Of Pickmere
Pedigree

By R..Peter Pan the successful sire of HOYS winners and numerous County Champions, out of Pat Mothers' P. Pure Gold, a true Hack mare placed at the Royal International and The Royal.
Sirocco combines the best of Riding Pony, Welsh and Thoroughbred bloodlines and maintains the Studs tradition of adding TB quality to successful pony bloodlines.



Performance

Unshown as a foal due To FMD. As a yearling he was 1st in RP at Derbyshire Festival of Showing and 1st in RP at Cheshire County. As a two year old he was 1st & Ch. PBW at Derbyshire Festival of Showing, 1st&Ch.NPS Elite Y/SatLlloc, 2ndPBW 2/3 at Pony of the Year. As a three year old he was
1st RP Stallion at North of England (Whiteside and Knowles finalist)


Potential

Pat Mather describes Sirocco as a Riding Pony of substance; this is a perfect cameo of the pony and is very distinct from him being a Hunter Pony, which in our opinion he is most definitely not. He has a wonderful blend of bloodlines, which has given him quality and movement with gallons of Charisma. We think he will suit a wide variety of mares.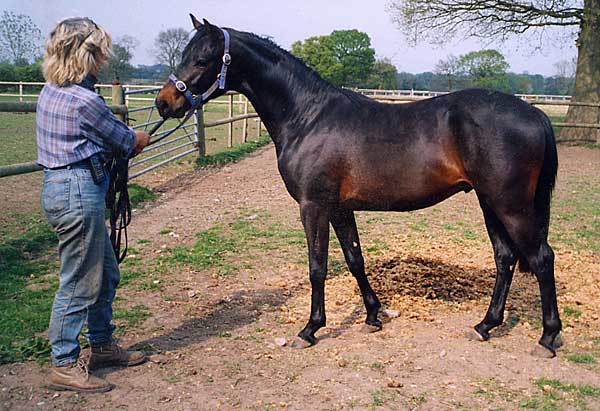 *STOP PRESS*

*Sirocco`s Son Litton Salvador is Champion In Hand Pony and Reserve Overall at the 2017 Horse of the Year Show. Sirocco is available via Chilled Semen in 2018*
Pat Mather / John Keleher



School Farm, School Lane,
Pickmere, Cheshire, WA16 0JF, England.
Tel 01565 733259 Fax 01565 733222
E-mail sales@pickmerestud.co.uk
Web Page Design and Hosting by B15 Internet Tel 0121 288 6789 Fax 0871 733 3679
horse, horses, pony, ponies, racehorse, bloodstock, training, yard, tattersals, horses in training, country, pedigree, equestrian, equine, buy, sell, for sale, sale, lease, partnership, shares, purchase, international, database, buyer, seller, advertisement, advert, photo, photograph, nationwide, sales, auction, catalogue, directory, index, england, UK, U.K., nationwide, national, competition, tack, thoroughbred, dealer, products, show, race, hunters, hunting, hunt, brood mares, foals, breeding, stud farm, stable, the flat, the jumps, show jumping, show jumpers, eventing, eventers, dressage, showing, driving, racing, cross country, horse trials, stallion, stallions, youngstock, filly, fillies, colt, colts, mare, mares, gelding, geldings, point to point, canine, BSJA, BHTA, ODE, buying, selling, irish draught, hanovarian, arab, welsh, cob, shetland, appaloosa, saddle, bridle, stud, british, english, german, cheltenham, in hand, working hunter, novice, intermediate, advanced, rider, riding, stables, land yard, hack, hacking, pony club, PC, riding club, RC