Rotherwood Toy Symphony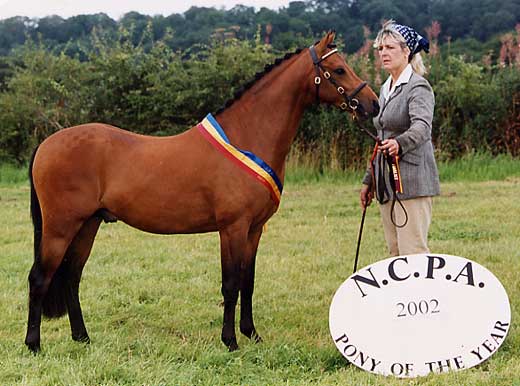 Bay - 128 CM - Foaled in 2000
Rotherwood Peter Pan
Westacre Concerto
Keston Royal Occasion
Twylands Crescendo
Katies Dream
Keston Royal Occasion
Rotherwood Destiny
Rotherwood Sonata
Westacre Concerto
Keston Royal Occasion
Twylands Crescendo
Twylands Toccata
Criban Loyal Grey
Bwlch Minuet
Toy Symphony is by the well known Champion, Rotherwood Peter Pan, out of a Wembley Show Pony mare, Rotherwood Sonata. He was bred by Liz Mansfield of Rotherwood Stud and is line bred to her great sire Keston Royal Occasion. He was purchased as a foal in 2000 and has proven to be a major asset to the stud.
Unshown in 2001 due to Foot and Mouth (as we are a working farm nothing was shown that year) In 2002 he was lightly shown with great success finishing as the NCPA Pony of the Year in Riding Pony and Part Bred Welsh. With 2003 as his first covering year he was shown only once when he was 1st and Reserve Champion Part Bred Welsh at North of England Show.
He is a superb covering stallion, quiet and kind with his mares , Pat calls him her 'wine and roses man' . With a superb free flowing movement he is siring quality foals and repeat business to him shows how well owners regard his progeny. If you are looking for a top class 128cm (12.2) Stallion look no further.
Many of his progeny arc now winning at all levels up to county. He is proving to be one of the Studs most successful and popular Stallions.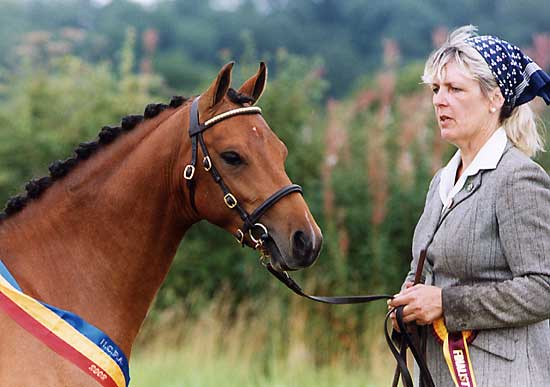 Registered NPS and WPBR

Pat Mather / John Keleher



School Farm, School Lane,
Pickmere, Cheshire, WA16 0JF, England.
Tel 01565 733259 Fax 01565 733222
E-mail sales@pickmerestud.co.uk
Web Page Design and Hosting by B15 Internet Tel 0121 288 6789 Fax 0871 733 3679
horse, horses, pony, ponies, racehorse, bloodstock, training, yard, tattersals, horses in training, country, pedigree, equestrian, equine, buy, sell, for sale, sale, lease, partnership, shares, purchase, international, database, buyer, seller, advertisement, advert, photo, photograph, nationwide, sales, auction, catalogue, directory, index, england, UK, U.K., nationwide, national, competition, tack, thoroughbred, dealer, products, show, race, hunters, hunting, hunt, brood mares, foals, breeding, stud farm, stable, the flat, the jumps, show jumping, show jumpers, eventing, eventers, dressage, showing, driving, racing, cross country, horse trials, stallion, stallions, youngstock, filly, fillies, colt, colts, mare, mares, gelding, geldings, point to point, canine, BSJA, BHTA, ODE, buying, selling, irish draught, hanovarian, arab, welsh, cob, shetland, appaloosa, saddle, bridle, stud, british, english, german, cheltenham, in hand, working hunter, novice, intermediate, advanced, rider, riding, stables, land yard, hack, hacking, pony club, PC, riding club, RC