Strinesdale Matador
1990 - 2010
Tributes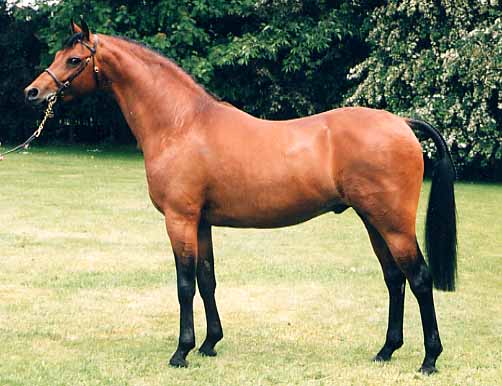 I own one of Mattie's beautiful daughters here in Australia, Penny Royal of Astral. Penny is the image of her beautiful father and in over 30 years of owning and then breeding horses...she remains the most special to me. Penny has long since retired from showing under saddle - but she will still happily go for a trail ride with me 'out of the blue', even if she (and I!) have not ridden in several years. She is bold, brave and beautiful :) She is an amazing mare both in looks and in nature - I've been lucky enough to breed 5 foals from her, two fillies of which have been retained. All 5 carry that distinct 'Matador' stamp. RIP Matadador, knowing that you have left behind many beautiful ponies to continue your legacy.
Kaylene Leopold - Kinsbrook Stud
kinsbrook@hotmail.com
---
I am exceptionally lucky to own a grand child of Matador's, Golden orbit! Whom I purchased from the pickmere stud in 2005. "Charlie" is not a county winner nor a HOY's champion, though he is more than capable. He is however, my best friend a truly fantastic horse with a wonderful character. I couldn't imagine life with out him! Without Matador he wouldn't be here and it is with great sadness that I heard of his death. His charm and good looks will live on in Charlie and his many children and grandchildren around the world. I will always be grateful to matador for making it possible for me to have my partner in crime. I am sure that anyone who is lucky enough to own their own little but of mattie will agree. He is a horse whose influence has touched the hearts of many!
Sarah Frodsham
sarah.frodsham@hotmail.co.uk
---
I was priviledged enough to find a son of Matador here in Australia 4 years ago - Machos of Tuscany ("Macca"). Whilst I never met Matador - when I found the Pickmere website I can see where my boy gets his good looks from. Re-visting the site I'm very sorry to learn of your loss. Matador's memory, incredible good looks and character live on in his children and grandchildren. I'm very glad I found Macca.
Vicki Went
vicki.went@originenergy.com.au
---
A true legend in the pony world.

As an ex employee of Mrs Mansfield, I never had the privilege to work with Mattie. My thoughts are with all connections as this stud season draws to a close with the very large empty space that no other pony could come near to filling.

Sleep Tight Handsome xx
Kayleigh Hawes
k.hawes@hotmail.co.uk
---
I was so very sorry to hear of the recent passing of Matador. What a truly great sire he was and many years down the track also proving an exceptional grand-sire for us also these days.
Our Family bred 4 Strinesdale Matador offspring in total when he became available in Australia. These were Ascot Lisa Marie ( Saddle Champion at Multiple Royal shows) (retained) Ascot Toy Show - Royal winner & prime broodmare for the Divine Stud, Roseacre Castille (gelding) Newcomer HOY winner & still successful under saddle & Roseacre Castinet (Royal winner under saddle & broodmare for Cedar Lakes Pony Stud).
These days we continue to show Mats young grandchildren very successfully - the Black 2yo Ascot Elizabeth Arden & daughter of Lisa Marie has been nothing short of exceptional notching up many Royal Show Championships with a saddle career still to come.
I have a photo of her which shows the cheeky Matador sideways look.....you know exactly from where that came!!
May he live on through all his children & grand-children and you both have all the wonderful memories to carry with you.
God Bless,
Melanie McGuire-Muller & Kerry Muller
Ascot Stud email: ascotstud@ozemail.com.au
---
I am very new to pony breeding but thank goodness I chose Mattie as the sire to found my small stud. I have bred 2 lovely colts, now gelded, but third time lucky, I now have a gorgeous filly to carry on the
Matador name in my own small way. Thanks to Mattie and many thanks to Pat and John for their professionalism and kindness.
Claire Merlin-Davies email: cmerlin-davies@elegantresorts.co.uk
---
You dont know me and i dont know you but i have two very special ponies that are my great friends, rotherwood mr.pepys and pickmere lady arwen. you are very special and there will never be a sire like you again you are amazing so handsome you will never be forgotton i thank you. x
miss j hunt
---
We were so sorry to hear of the loss of Matador, but what a legacy he has left behind and he will always be remembered for his huge influence on the thoroughbred type pony which is the mainstay of our childrens riding ponies.
Hilary Samuels
---
R.I.P xx What a sad loss of such a beautiful pony. I was so upset when I found out. He was the wind beneath your wings and shall never be forgotten.
Hannah Hargreaves email: hananabanana@hotmail.co.uk
---
Matador took my breath away the first time I saw him! I had to have a piece of him, I returned to Australia searching for his blood!
I am lucky enough to own a Strinesdale Matador Son in Australia "Maximus of Astral" who portrays the image of his father. Maximus like his father is a true showman with that true saddle horse status! Like Matador Maximus's foals resemble the Matador Stamp. You can see the influence from Matador in all of Maximus's foals, the cadence in their stride, the sweeping lengthy front and that beautiful kind eye. Beautifully put together and built to ride!
RIP Matador you are a true legend! Never to be forgotten.
Kym Warner email: mldypark@bigpond.net.au
---
I feel very blessed to have 2 outstanding Matador fillies in our stud here in Canada. After 40 years of breeding and importing section B welsh, I became lost to the quality and excellent mind of the BRP. Our own imported stallion *Rosedale Top Cat (Llanarth Alleycat) had produced some wonderful fillies from our imported section B mares and we had no where to turn to for our next gereration stallion. When Liz attended the Toronto Royal Winter Fair she told me that there was limited semen in North America and I managed to buy 2 doses.The first dose was used for *Cennen Sonatina, she was bred on her 2nd follicle but alas a third one showed up so no possiblitlty of a pregnancy and I became very nervous with her advancing age that she would not get pregnant on the remaining dose. I suggested to my vet, Dr. Michael Zajac that I switch mares and use our equally lovely imported mare *Pennwood Pennsylvania. Mike being the 'wizard' he is said he would split the last dose on both mares and on my birthday both mares were ultra sounded with both viable pregnancies.
We now have 2 outstanding fillies from Matador and even though we have had many offers on them, they are both valued and will remain a very important part of our BRP and sportpony program. Thank you Matador for Mortons Royal Chorus and Mortons Princess Royal your legacy will live on in Canada through them.
My sympathies in the loss of your good friend.
Darlene Morton
PS Yes we still had no 2nd stallion, but as fate would have it I was able to purchase the imported BRP stallion *Jackets Classical Blue (Walton Touch of the Blues x Jackets Maysong) this summer so onward we go!
---
Matador was one of the most charismatic stallions ever, along with his brother Strinesdale Mastermind, I know the feeling of greatness, I was privilaged to buy the full sister to Gredinton Natalia Matadors dam and her daughter will carry on the bloodlines and tradition of this famous and fantastic Gredington Stardust/ V ray bloodlines. too important to lose to hack and pony breeding, -- saw Mattie as a foal at the Strinesdale stud, and he was just Simply the Best.
Veronica Taylor
---
How terribly sad, but thank you for your wonderful legacy. You've probably had the single biggest influence on the Breed since Bwlch Valentino. R.I.P.
Sarah Borg
---
Very sorry to hear the loss of Mattie. We have Pickmere Dancing Queen his daughter. She definatly takes her looks from him. He will be missed very much.
Sarah-Jane Morey
---
Always had a love for riding ponies and when I had the oportunity to purchase one at a fair price in Australia it was one of Matadors babies. I have owned many horses over the 14yrs I have been ridding and my baby is the best thing I have ever come across. I will never sell him no matter what! he looks just like his dad and brought him to show but he is doing great at jumping at the moment and even though he is only 13.3hh he is a little gun. I was so sad to come across his death on here and it will make me treasure my baby even more r.i.p the great Matador!
Fiona
---
Click here to add your own tribute to Matador
Click here for our Matador Obituary Page
Pat Mather / John Keleher



School Farm, School Lane,
Pickmere, Cheshire, WA16 0JF, England.
Tel 01565 733259 Fax 01565 733222
E-mail sales@pickmerestud.co.uk
Web Page Design and Hosting by B15 Internet Tel 0121 288 6789 Fax 0871 733 3679
horse, horses, pony, ponies, racehorse, bloodstock, training, yard, tattersals, horses in training, country, pedigree, equestrian, equine, buy, sell, for sale, sale, lease, partnership, shares, purchase, international, database, buyer, seller, advertisement, advert, photo, photograph, nationwide, sales, auction, catalogue, directory, index, england, UK, U.K., nationwide, national, competition, tack, thoroughbred, dealer, products, show, race, hunters, hunting, hunt, brood mares, foals, breeding, stud farm, stable, the flat, the jumps, show jumping, show jumpers, eventing, eventers, dressage, showing, driving, racing, cross country, horse trials, stallion, stallions, youngstock, filly, fillies, colt, colts, mare, mares, gelding, geldings, point to point, canine, BSJA, BHTA, ODE, buying, selling, irish draught, hanovarian, arab, welsh, cob, shetland, appaloosa, saddle, bridle, stud, british, english, german, cheltenham, in hand, working hunter, novice, intermediate, advanced, rider, riding, stables, land yard, hack, hacking, pony club, PC, riding club, RC