Strinesdale Matador
1990 - 2010
Obituary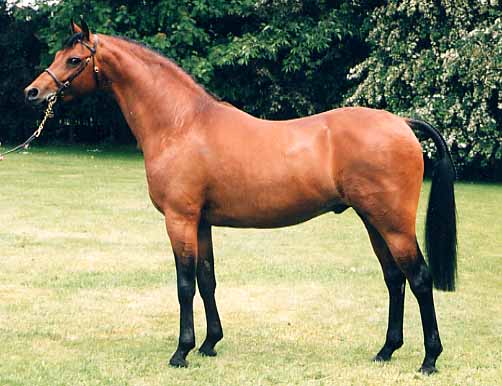 When Liz Mansfield unloaded Strinesdale Matador in our yard at the Pickmere Stud in December 1996, Pat and I could still not quite believe that we had been entrusted with him, for what we thought at the time would be two years. He was the most stunning pony to look at with oceans of charisma and little did we know, at that time, that he would change our lives forever.
We had first seen Matador at HOYS in 1991, where he was competing in the final of the In-hand competition, even as a yearling he was amazing. Which probably explains why five years later when we were looking for a Stallion for our maiden hack mare, Pure Gold he was top of the list. Seeing him again at Rotherwood Stud made up our minds and he duly covered and got in foal Pure Gold. When later that year we saw in Horse and Hound that Mattie was available to lease we nearly did not apply as we thought he would be snapped up by a bigger stud than us. Thankfully Liz Mansfield did not want him to go where he would just be one of the boys, she knew he was special, and so he arrived at Pickmere.

Two years flew by and at the end of the 1998 season it was agreed Mattie would stay with us. What a character he was, from running around his field with a stick in his mouth like a big dog, to his habit of clapping his hooves when going up for covering duties. As the number of winners he sired grew, so did the number of mares he covered, arriving from the length and breadth of the country , and we were also busy sending out chilled semen. In 2003 he had his first HOYS Ridden Champion, Rotherwood Take A Peep , and two years later Take A Peep returned to HOYS as a brood mare to take the In—Hand Championship. In the same year Crafton Waltz of the Toreadors took the Ridden Show Hunter Pony Championship. With many other class winners and up to sixteen qualifiers every year he became a legend, improving every mare he covered.

The advent of the National Pony Society Sire Rating Championship which is judged on the results of a Stallions ridden progeny at County and National Shows only underlined Matador`s supremacy in Show Pony breeding. He has won every Championship so far 2007, 2008 and 2009. Following the occurrence of an arthritic problem we had to withdraw Mattie from public stud in 2009, but we were confident of being able to cover a few selected mares from Rotherwood and Pickmere this year. Fate however decided otherwise and on 4th February 2010 the only colic Mattie had ever had, claimed his life.

His bloodlines will influence Show Pony breeding for generations to come, but there are no words that can adequately describe Matador, special, legendary, iconic, all fall very far short. Quite simply he was Matador, a stallion who owned every every inch of ground he stood on, who commanded attention with his awesome precence, who can never be replaced or emulated. But most of all he was a gentleman and a very great friend.

Thanks Mattie, farewell until we meet again.
Pat Mather and John Keleher
Pickmere 8th February 2010
Our thanks go to Liz Mansfield-Parnell, Matador`s owner, for having given us the opportunity to be a part of Matador`s life for so many years, it has been an honour and a privilege. Thanks also to Vet Paul Thomason of Thomason and Walters who tried so hard to save our old friend.
Click here to read other tributes
Click here to add your own tribute to Matador
Pat Mather / John Keleher



School Farm, School Lane,
Pickmere, Cheshire, WA16 0JF, England.
Tel 01565 733259 Fax 01565 733222
E-mail sales@pickmerestud.co.uk
Web Page Design and Hosting by B15 Internet Tel 0121 288 6789 Fax 0871 733 3679
horse, horses, pony, ponies, racehorse, bloodstock, training, yard, tattersals, horses in training, country, pedigree, equestrian, equine, buy, sell, for sale, sale, lease, partnership, shares, purchase, international, database, buyer, seller, advertisement, advert, photo, photograph, nationwide, sales, auction, catalogue, directory, index, england, UK, U.K., nationwide, national, competition, tack, thoroughbred, dealer, products, show, race, hunters, hunting, hunt, brood mares, foals, breeding, stud farm, stable, the flat, the jumps, show jumping, show jumpers, eventing, eventers, dressage, showing, driving, racing, cross country, horse trials, stallion, stallions, youngstock, filly, fillies, colt, colts, mare, mares, gelding, geldings, point to point, canine, BSJA, BHTA, ODE, buying, selling, irish draught, hanovarian, arab, welsh, cob, shetland, appaloosa, saddle, bridle, stud, british, english, german, cheltenham, in hand, working hunter, novice, intermediate, advanced, rider, riding, stables, land yard, hack, hacking, pony club, PC, riding club, RC